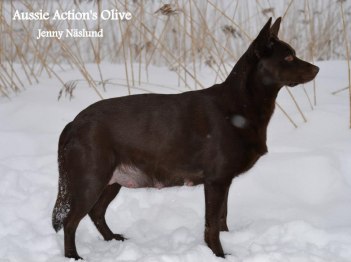 ... on small paws, small cuddly ears and eyes to drown in.
Livan is doing well and likes the attention. Especially from our German shepherd Moritz who took her under his wings.
How many will it be? Will everything go well? One thing we know is that regardless of color and gender, we have many that are waiting for a little hairball to care for. We know we have nice homes for our babies, we are grateful that you can give them that!
Any day now ...
It's so exciting, this is the first litter that I (Jenny) was involved in looking for a male and I have learned a lot. At shows, I have to practice to check angles, sizes, heads, etc. to learn desirable characteristics for the breed. When I take pictures, I also see details that I had not thought of before, it helps a lot now when I try to learn as much as possible about the Kelpie.
I promise to shoot a lot of pictures for you, keep an eye on the website and Facebook!