welcome to aussie action's kennel!
Waiting for our z-litter!
Aussie Action's Black Racy Raven is mated successfully with Promotion Buell Cyclone and Racy expects to give birth around 7th of march. If you are interested in our Z-litter you can read more about Racy and Iver down below. You can contact us at first by
e-mail, we will get back to you as soon as we can.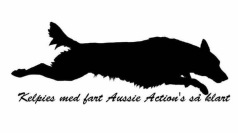 Norwegian Talent Troup 2020
Swedish Championships 2020