Red Alert's Dewi 02-10-07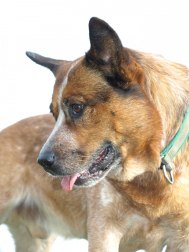 C.I.B EE CH LPI NORD JV-03 NORD UCH TJH(FM) Estonia W-10Red-Alert's Dewi
SM 2008-2010 Swedish Patrol Championship
Higher Class Tracking, Search and Patrol. Obedience class II
H.I.T 5 points
SE UCH NO UCH FI UCH
Dewi was my first Cattle Dog and an incredible friend. A lovely dog who always gave all his best, with plenty of willingness to work.
He was a very good patrol dog, we did five years together in the Home Guard where he did very good work. Patrol up to 12 - 13 hours without slowing down. And you could always depend on his markings.
He was the best tracking dog I've ever had and it looks like he inherited it to his offspring.
Dewi managed to get three litters, one of Bushbugs kennel one of Okcoralls kennel in Norway, Working Mates kennel as "Junior" is coming from. The puppies have already shown great results.
Unfortunately, Dewi got cancer in October 2011 so we had to put him to sleep.
If you can have a soul mate in a dog, he was mine.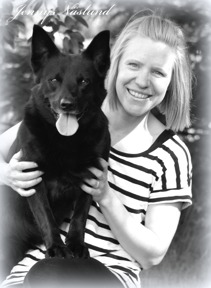 Oban has his own page that tells you how wonderful he was.
Oban couldn't be saved after breaking his leg.

Aussie Action's Oban
Aussie Action's Red ilandra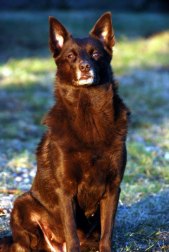 LPII LPIII Aussie Action's Red Ilandra

Mother of K, N and O-litters.
Ilandra and her mum Toini had great success in the obedience classes.
Ilandra has had incredibly beautiful puppies with work ability and very nice exterior.
Ilandra herself was a really energetic lady who did everything for her mom Toini.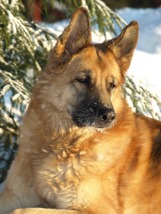 HD Grade B Eb ua (0)
Lady started our breeding of German Shepherd. Our daughter, Jenny bought her from Göte Larsson as her first dog and she proved to have very good mentality. Jenny and Lady competed in Obedience Class II.
Lady is the mother of J-litter.
Unfortunately, she passed away in April 2012, she became 11 years old.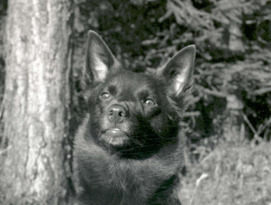 SE uch Int uch Korad Tjh (räddn) Nemårs XL-Cola
One of our best breeding bitches, mother of E-G litter.
Where we have rescuedogs Swedish Mastership-winner in obedience 2000-2001 Gina and Glory who was with the rescue by the earthquake in Turkey and got a medal for the Swedish Kennel Club for their efforts. Effect was SBCH 4th of rescuedogs Swedisch Mastership, among others.
A very self-confident lady with a twinkle in her eye. Loved to move around my house plants, we found various arrangements of pillows and other places.
Yttergårdens Red Oongies Lassie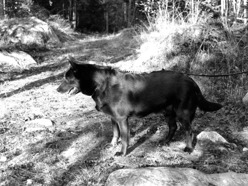 Yttergårdens Red Oongies Lassie
Lassie came to us at the age of 5, when Gunilla Fristedt in Yttergårdens kennel got her back because she did not function with their other female. Lassie is the mother of C-D litter.
She gave us incredable, workwilling dogs, for example obedience champions Droll and Dish, Coromant who was a very good herding dog, on cows. Cutie working dog champion in search.