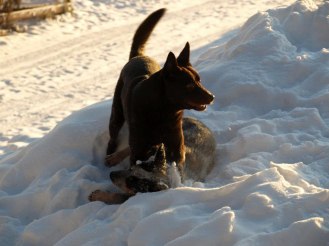 2012 were a really good year for Aussie Action's, with very good results in competitions. What can we hope for in 2013?
We know most of our "puppies" have owners with high ambitions.
Lisabet and Aussie Action's Olivander WON Agria Freestyle Cup class 1 at My Dog in Gothenburg in January. It was their third competition in freestyle and Olivander handled the big arena and pressure well. Congratulations!
Just a couple of days ago, Hanna and Aussie Action's Red Ness made their debute in Elit class Obedience. They had a good feeling and made a great first start! Good Luck to you in your next competition!
For all we know this will be another great year, not just because of results in competitions.
We are expecting puppies! Aussie Action's Olive are showing signs that she has little ones inside and we are so excited! Nearly three years has gone since our last litter so we are more then ready.
What happens with our own dogs?
Junior and Gizmo are in practice to become Patrol dogs. Also we found a new passion, skiing! Both Junior and Gizmo pulls really well and they run about 5 kilometres. 5 km is enough for me ;)
I forgot my camera every time, but I promise to take some new pictures.