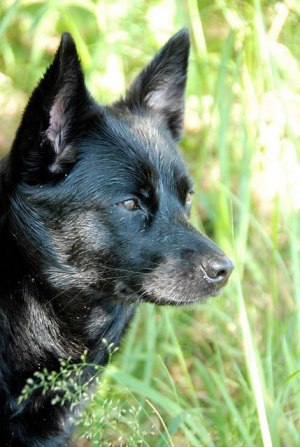 På lördag ska Jenny och jag prova på Rallylydnad, ska bli kul och en bra start för Junior då man kan prata med hunden. Sen blir det övning med tjänstehundarna resten av helgen.
Nästa helg blir det debut i appellen för Junior och i slutet på okt blir det MH, vallanlagstest och HD-röntgen
On Saturday Jenny and I try Rally Obedience, will be fun and a good start for Junior when you can talk to the dog. Then it will practice with patrol dogs rest of the weekend.
Next weekend will debut in the debut clas for tracking for Junior and the end of October it will be MH,(mentality test) herding instinct test and HD Xray.
I november åker vi till Danmark och ställer ut Junior och Gizmo om vi har tur kan dom bli Nordiska och danska vinnare. I december bär det av till Stockholm och svensk vinnare
In november we go to Denmark and to show Junior and Gizmo if we are lucky, they become the Nordic and Danish winner. In december we will go to Stockholm and the Swedish winner
Vi väntar på att Nikki ska börja löpa vilken dag som helst, hon har pälsat i och revirmarkerar flitigt när hon är ute.
We are waiting for Nikki to begin her season any day now, she has got back her coat and territorial marks frequently when she is out.