zathungens izzie in action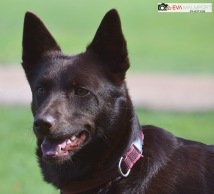 "Izzie"
Zathungens Izzie In Action
HD: B
ED: ua (0)
MH: 1 at shots (not gun-shy)
SE42625/2016
Heartultrasound clear 2019
Sire: C.I.E DK V-12 LPI LPII NORD V-11 RLDN RLDF RLDA
SE RALLYCH Aussie Action's Opal
Dame: RLD F RLD N TJH(PTRH) Zathungens Gigi
Co-owned with Lotta Mann, Stockholm
Izzie is a wonderful girl with lots of energy! Lotta is training her mostly in Tracks and Search and Izzie
loves it!
Izzie is still young, but they are upgraded to Level 2 in Tracks and Level 2 in Obedience on their first attempts. She has made a really good Mentalitytest and it reflects on how she is, stabile and with a lot of curiousity.
Izzie is a promising little girl and we will use her in breeding with Aussie Action's Red Touch Of Gold.