Aussie Action's Red rough & tough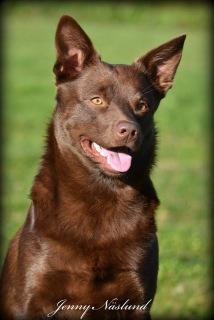 Quick
RLDN Aussie Action's Red
Rough & Tough
HD: B
ED: 0 (UA)
Heartultrasound clear 2018
Eyes: clear 2018
MH: 1 at shots (not gun-shy)
SE34856/2014
Sire: KORAD LPI SEBCH SE UCH Cefeus Kim
Dame: RLDN Aussie Action's Oya
Owner: Elin Rydberg, Sundsvall
Quick is open for eveything! Search, Obedience, people and the best thing of all; go swimming!
Quick and Elin (his owner) are competing in Obedience, upgraded to Level 2 and Rally Obedience where they also are upgraded to Level 2. Quick is a searchdog for Missing People, he and Elin search after people who is lost. It's a very important duty and he must work for long hours and sometimes for several days.
He is a handsome boy and has done well in Shows with Excellent as a result.
They also do Search, they haven't competed yet, but Quick really likes it and he can work for a long time.
Quick has a strong mentality, no fears and he has a lot of work-willingness. We really like this guy and he is very loveable.