Aussie Action's Red True trinity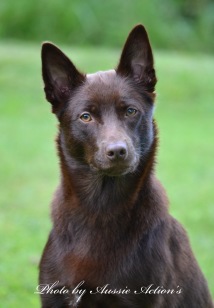 "Trinnie"
SPH I SPH II SPH III
SÖKH I SÖKH II SE UCH
SE RALLYCH RLDN
RLD A Aussie Action's Red
True Trinity
HD: A ED ua (0)
MH: 1 at shots (not gun-shy)
Heart clear 2018
SE43407/2015
Trinnie is beautiful and full of energy! The world is not enough for this girl, she loves to do anything that her owner Lena want's her to do.
She is yet very young, but so far she is competing in Level 4 Tracking and she competes in Level 3 Search. She is upgraded to Level 3 Obedience, she is a Rally Champion and is SE UCH. Trinnie has made an approved Scent-test in Nosework Eucalyptus and she is competing in Nosework Level 1.
8/8 of her siblings has made Hip X-ray and they all have A, and seven of them have also done MH with very good results and they are not gun-shy.
We think Trinnie is a promising little girl and we will use her in breeding 2020.