Aussie Action's black racy raven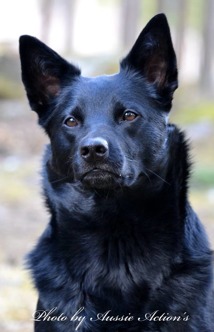 "Racy"
RLDN JEUW-15 SE V-16
Aussie Action's
Black Racy Raven
HD A ED ua (0)
MH: 2 at shots (not gun-shy)
Heart clear 2017-11-23
SE34859/2014
Sire: KORAD LPI SE BCH SE UCH Cefeus Kim
Dame: RLDN Aussie Action's Oya
Owner: Christina Näslund, Matfors
We really like our beautiful girl, she is very easy to handle among other dogs and people, she can adjust to any pack. Everyone who has met Racy thinks she's adorable and so, so sweet.
Her biggest access is her workmentality in Search, she is upgraded to Level 2 in Search with an impressive searchwork. The score was 10-10 from the judges.
She has made one start in Obedience with approved result and she is upgraded to Level 3 in Rallyobedience.
She is a member of Missing People as a Searchdog, she is an important access when someone is lost, wich is a very important duty.
She has done well in Shows, she won the title Junior European Winner 2015 and Swedish Winner 2016.