Sire: Aussie action's Black quick-step
Dame: cefeus rhea ii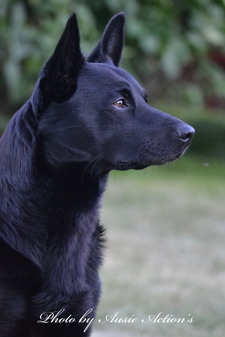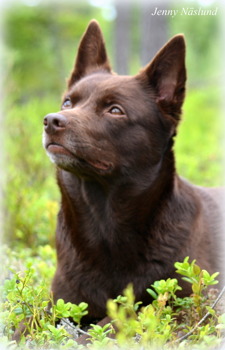 BH NUCH NJV-13
Aussie Action's Black
Quick-Step
HD B ED o/o
MH shots 1 (not gunshy)
Back X-ray clear (ua)
SE16207/2013
Vegas is an active and healthy kelpie! He loves to work and takes on every challenge with attitude and eager, no challenge is too hard for this boy. He is a strong and athletic kelpie, weighs 22-23kg and 51cm high.

Vegas is upgraded to FCI Class 3 obedience.
Hege and Vegas are also competing in tracking and have completed the NKK Kåringsprøve, and they are upgraded to Norwegian class B Tracking (Higher class in Sweden)
He has completed the Norwegian ferdselsprøve with the title BH.
Vegas has done well in Shows and has the title NUCH.
In 2013 he got the Junior-title in the Norwegian Winner Show.
He also has good herding instincts, very promising.
Vegas has passed the Norwegian Scent test in Norway, qualified to compete in Nose Work.
HD A ED 0/0
MH shots 1 (not gunshy)
SE66511/2010
Rhea is a happy, loving girl and is very social to people and other dogs. She especially adores children. She is 43 cm high and weighs about 15 kg.
Rhea is an excellent tracking dog, probably the thing she likes the most. Rhea is also really good at Special Search (Nose Work) and she has passed swedish scent test in Eucalyptus and Bay Leaf so they are qualified to compete in Class 1 Nose Work.
She competes in Higher Class Tracking, Class III Obedience and Rally Obedience.
Rhea has for now one CAC in show.
Rhea is the mother of our T-Litter. There are 7/8 who has made their X-ray on their hips and they all had A. There are 7/8 who has made Mentalitytest and they all did a great job and they are not gunshy. We are so pleased with
T-Litter.