Aussie Action's black rising sun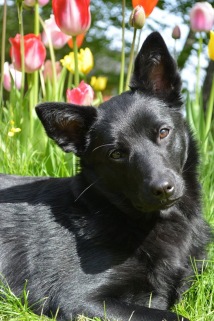 "Mango"
SPH 1 LPI LPII
Aussie Action's Black
Rising Sun
HD: A/A
ED 0/0 (ua)
MH: 1 at shots (not gun-shy)
SE34860/2014
Sire: KORAD LPI SE BCH SE UCH Cefeus Kim
Dame: RLDN Aussie Action's Oya
Owner: Emilie Af Ekenstam, Märsta
Mango is a princess, beautiful and very kind to everyone and everything!
Mango and her owner Emilie competes in Obedience and Tracking together. They are upgraded to Level 3 Obedience and they have an approved result in Level 2 Tracking and they got an Excellent in Show.
Mango really loves tracking, she is meticulous in her work and she have had 10/10 points at her competitions in Tracking.
We think Mango is a promising little girl and we will use her in breeding in the future.